I was fooling around with some various ideas to submit for a politically themed design contest at wooden-nickel.com. The first few I did were sort of cute and a poke at each of the candidates, then I came up with one based on my signature line that I fell in love with once it was done. I hope it wins, but will be ordering some regardless once the contest is over. If I win, I get some quantity free.

If you feel so inclined and if it is selected as one of the finalists to be voted on by the public, I hope you'll vote for it.



Quote
The entire Internet Community will be able to vote on this webpage from April 18th to April 30th, 2008 - OR vote in person at our company. Website will accept one vote per IP Address per day.




If you want to see my other designs, check out my flikr page.

Dave

To be fair, I'll point out that USA45 also has a submission in the final five (how cool is that?). His is #5...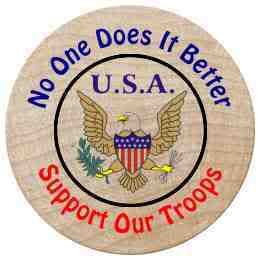 Edited by DudleyGrunt on April 18 2008,8:27 am



--------------
Dave - Happy Trails!
"We never seek things for themselves—what we seek is the very seeking of things."
- Blaise Pascal (1623-1662)

GeoCachers4Christ
Military Assoc of GeoCachers
Facebook - Geocachers Unlimited