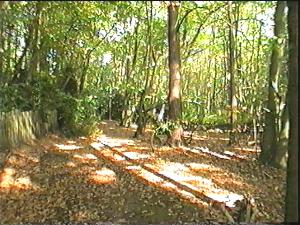 Sunningdale is known for its golf course in the same way as Ascot is known for its horse racing. The "Sunningdale Golf" Geocache is hidden in woods overlooking the golf course. You should not need to cross the golf course to get to the spot, although - for those that wish to - the public footpath does cross the fairway, and takes you to the village of Sunningdale. Your clue is "2 metres east of silver birch, hidden by heather and moss". Please make sure it is hidden when you leave.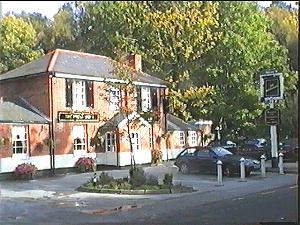 I reccomend that you start at "The Brickmakers". Park your car here, then take the footpath to the right of the pub, and follow it into the woods, skirting the pub garden and other properties on your left. The path leads uphill and north, until you will eventually meet the golf course. Please take care not to upset the golfers, and take great care if you decide to cross the fairway.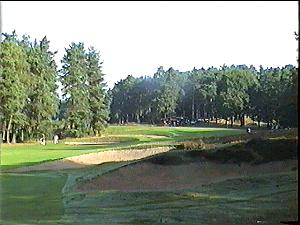 Please stand still while they are playing a shot - if you are in their line of sight - but not in the middle of the fairway :-) You should have no problem finding the Geocache, which is the usual Lovelock large tupperware box, holding disposable camera for you to take a picture then return to the cache, toys and books for children, cuddly animals, and lots of other low cost "goodies". This location is certainly not in the same league as Hampton Court or Virginia Water Royal Lake, but it is still worth a visit - there are some nice walks, and even nicer pubs, in the Windlesham to Sunningdale area. The nearest pub is "The Brickmaker" at
N 51° 22.318 W 000° 38.286 which has a nice (but not cheap?)
restaurant. There are some other pubs nearer to Windlesham
- such as "The Surrey Cricketers" at N 51° 21.992 W 000° 39.094 - which boasts (a rather old?) skittle alley, and "The Sun" at N 51° 21.906 W 000° 39.230 in the very centre of Windlesham village.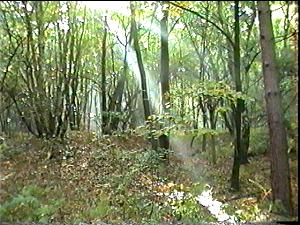 You will find more Lovelock caches on www.gpss.co.uk/geocache
CACHE LOGS - May contain hints(spoilers)! &nbsp

02 Jan 2010 by Amberel (Finds: 61 Score: 201.5) &nbsp (Hidden: 2 Score: 11.5)
Open Log: Non-commercial use only

I had planned to go out caching all day today, but at the last minute Mrs. Amberel and one of the Misses Amberel decided to go shopping in Kingston, which meant I was on Gran watch. However, from 14:30 I would be able to go out, so I decided to look for a couple of local NaviCaches.

This one was a very quick find - the cache was just sitting out in the open, completely in view. It was in the heather, but the heather is very sparse at present and provided no cover.

Despite that, the cache had not been damaged or vandalised - indeed, it may not even have been found by anyone, as there was no signature in the log book since Robin's maintenance note.

Regrettably there was a great deal of ice inside - naturally I got rid of as much as I could. Luckily the log book was dry inside its plastic bag, and even the soft toys were mostly dry.

When I replaced the cache I foraged around the area for any loose material to cover it, and it's certainly far more discreet than before though I'm not sure how long this will stay in place. Even if it doesn't, I guess if it's lasted this long, it could be OK for a long time yet.

Thanks for the cache,

Rgds, Andy
[Modified 2010-01-02 12:30:51]


16 Feb 2008 by Robin Lovelock (Finds: 12 Score: 34) &nbsp (Hidden: 48 Score: 142)
Open Log: Unrestricted

Robin and June replaced the broken box by an identical one at 1505, then, after writing in the log book, hid the box in practically the same original spot. Very easy to hide :-) Many Thanks for reporting this. As you say, the contents were all OK and dry. We even got the chance to take a photo of ourselves with the disposable camera. It seems that the mowing is part of an exercise of providing somewhere for the lizards to sunbathe, since the mown paths do not join up. Many Thanks again - and happy geocaching ! :-)

08 Feb 2008 by rodz (Finds: 1 Score: 2) &nbsp (Hidden: 0 Score: 0)
Open Log: Unrestricted

Sandvika spotted this one for me so I decided to go find it today. Unfortunately I had the old coords and the old hint. After spending a considerable time looking and consulted the updated coords and hint. Time to relocate. It was a quick find mainly cos someone seems to have driven a large mower here. They have clipped the box which is trashed. Fortunately the contents are fine for the moment. I tidied the broken bits so it is better hidden. Thanks for this.

02 Dec 2007 by sandvika (Finds: 51 Score: 142.5) &nbsp (Hidden: 13 Score: 66.5)
Open Log: Unrestricted

FIRST TO FIND! Wow - who would ever have thought that Heffalump007 and I would be the first finders of the cache on this site or GC.com! What a brilliant hide, the cache had practically become part of the landscape.

On a wet and windy December Sunday when the torrential rain had caused the Windlesham football practice to be abandoned in a hurry, sensible people would have stayed indoors, but these crazy geocachers went out caching anyway.

After a super walk up the hill though lovely woods, we came to a pretty clearing and then wandered to GZ. I planted my umbrella firmly at GZ as indicated by my GPSr and we searched in small circles around it and around the clue mentioned in the cache description. For some reason we thought it was a multi-cache and we were looking for Robin's now familiar clue tickets.

After a serious amount of searching, we began to wonder if Robin had been back to maintain this cache and perhaps the clue tickets had disintegrated. Thus, I decided to give Robin a call to check on the status of the cache and he put us straight - it was a traditional cache, not a multi-cache and he had replaced the box earlier in the year. Unfortunately the mobile phone network let us down in mid conversation, but we had enough knowledge to convince us to resume the search.

That was, except for the fact that we now knew we were looking for a full size Lovelock cache box. These are BIG caches by any standards and we were frankly in disbelief that we could not find it. It should have been like finding an elephant at the zoo. Except it was not. We renewed our search and were on the verge of giving up. I decided to review where my GPSr thought GZ was, and it was now half way between the umbrella and the given clue.

I now renewed my search on this tiny portion of the area we had already searched several times. It was the "I'm about to give up and go home" search. Then I found it. How we did not smash it by trampling on it in our search I do not know. Suffice to say that NONE of the cache was visible. Not one tiny bit. It was hidden better than Sandhurst's finest could ever hide themselves. It was an EXTREMELY good hide. Bear in mind that this is a HUGE cache container of at least ten litres. It is bigger than a large size ammo box.

I suspect that the passage of time, and Robin's collaboration with nature had made this hide the challenge it was. It was humbling to find this cache. Until today "Wokingham Town Nano" was the unchallenged "best hide" of my caching career, however, for Heffalump007 and I to spend the best part of 40 minutes looking in a small area of under 20 square metres for a box that's at least as big as a carpet tile is amazing. Normally you can spot the hiding place for this size of countainer from about 30 feet away and the search is over before it has begun. Not this time!

So another smashing cache. Robin's caches are certainly not predictable and even Heffalump007 with his 1000+ finds learned a lot from this one. Brilliant.

SL@12:25, took photos on cache camera. TNLN TFTC, Sandvika.

02 Dec 2007 by heffalump007 (Finds: 40 Score: 143) &nbsp (Hidden: 5 Score: 10)
Open Log: Unrestricted

Joint FTF with sandvika after much searching & PAF Sandvika eventually hit the cache with the walking pole also used as a proding stick, this was a very well hidden cache we were both very impresed.

Signed the Log 12:23hrs 2/12/2007
Thanks for the Cache
Heffalump007
[Modified 2009-01-06 14:12:21]


11 Feb 2007 by Robin Lovelock (Finds: 12 Score: 34) &nbsp (Hidden: 48 Score: 142)
Open Log: Unrestricted

June and Robin replaced the cache by one almost identical to that placed years ago and now lost. Who knows, the old one may still be around somewhere, hidden under moss and heather :-) We even included a new instant camera, and took two pictures of the spot and ourselves to start the collection.

04 Feb 2007 by Robin Lovelock (Finds: 12 Score: 34) &nbsp (Hidden: 48 Score: 142)
Open Log: Personal use only

following emailed to Keith who could not find it ...

Hi Keith ! Bad news I'm afraid.
June and I took a walk to this cache,
and we then spent quite a long time
walking backwards and forwards
around the area, hoping to tread on
the large plastic box, tucked under heather.
Found TWO bits of corregated iron,
but I'm sure they were not in same spot.
Seems that this cache must have been found
by accident and taken away. I see some
logging had been done just a few yards away.
I'll now log this on the navicache site and
mark the cache as no longer there.
Sorry about this, and thanks for looking.
Hope it does not put you off the hobby.
Once you find one you may get hooked :-)
Robin

11 Jul 2004 by Robin Lovelock (Finds: 12 Score: 34) &nbsp (Hidden: 48 Score: 142)
Open Log: Personal use only

June and Robin checked at 1330 today - and it's still there, nice and dry. Took a piccy of ourselves with the camera and put it back, well hidden but easy to find.