Hope you don't mind but you may need a pound for charity to access this cache. This cache, replacing the old one that "went missing" was planted on 5th March 2002. "Kick over a log" is your clue - which you will need to find a clue ticket leading you to the box itself. Please put the ticket back as you found it. It is the usual Lovelock large tupperware box with disposable camera and lots of "goodies" for everyone.


The Lookout is named after the steel tower from within the relatively new building complex. You can climb this, but the view is hardly worth the effort - since most of the surrounding trees are now higher :-) However, the centre includes a nice little snack bar, a sort of "wildlife museum", and a little shop - in which to buy junk for geocaching :-) You can hire bicycles, at about £8 for two hours each, and this is a good option. It is suggested that you pick up a map of Swinley Forest for 50p (£0.5), some leaflets, and perhaps have a coffee while you plan your walk. Swinley Forest is a large area to explore, and is adjacent to the military training area known as
Barossa used by soldiers being trained at the Sandhurst Military Academy, to the south west. To the west is Broadmoor Hospital, home of the criminally insane - including a few Geocachers :-) The Lookout Visitor centre organises lots of events, including "Bat Hunts" in the late autumn evenings.


More information on Swinley Forest can be obtained from: The Lookout, Discovery Park, Nine Mile Ride, Bracknell, Berks RG12 7QW, UK. Tel +44 (0) 1344 354400.


Do not be confused by the picture below: it was taken deeper into the forest, at one of the more interesting spots: SP5 cache planted by our friend Tony Wale. Tony has planted LOTS of caches in this area :-)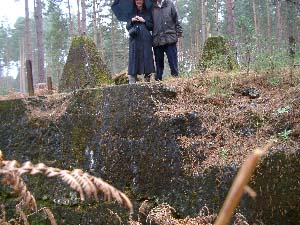 You will find more Lovelock caches on
www.gpss.co.uk/geocache

If you wish to contact Robin and want a reply, please email him direct on gpss@compuserve.com

If you do this through a geocaching web site, please make sure you include your email address. Robin regrets that he may not reply to those who seek to hide who they are. Please include at least your name and email address.



Add a Log Entry
CACHE LOGS - May contain hints(spoilers)! decode

15 Mar 2012 by Robin Lovelock (Finds: 12 Score: 34) (Hidden: 48 Score: 142)
Open Log: Unrestricted
Great to hear this cache is still there after 10 years! :-)

15 Mar 2012 by The White Family (Finds: 3 Score: 11) (Hidden: 0 Score: 0)
Open Log: Personal use only
---(2012-03-15 10:40:00---(Find 7091)---
There's so little activity on Navicache that I always forget to see if there are any nearby even when I'm visiting an area where I know there are likely to be Navicaches. So it was today but that didn't stop me finding this cache as it was literally handed to me when I was searching for another cache.

I hope the cache owner doesn't mind me logging this cache. I didn't look for the ticket but will do so next time I'm in the area, and will deposit a pound in the next charity box I see.

It's interesting to see that there are more logs in the logbook than there are online so I'm not the only one to have found this cache other than as intended.

Thanks for the cache.


10 Jan 2009 by oa (Finds: 18 Score: 56.5) (Hidden: 0 Score: 0)
Open Log: Personal use only
Last one for today. Left the retrieval for Ecky while I took care of the dogs. TFTC

10 Jan 2009 by Ecky (Finds: 11 Score: 38) (Hidden: 0 Score: 0)
Open Log: Non-commercial use only
Another find with Orti on an early morning caching trip. Found the ticket at 08:30, signed the log at 11:55. Forgot to take trades, to TNLN. TFTC

26 Nov 2008 by Robin Lovelock (Finds: 12 Score: 34) (Hidden: 48 Score: 142)
Open Log: Unrestricted
Well Done Andy. Our caches were mostly planted in 2001, when there were only about 100 in the whole of the UK. Ones like this with "clue tickets" usually have quite a few clue tickets within 10 metres, to cover losses, etc. You must have found one of the old ones.

26 Nov 2008 by Amberel (Finds: 61 Score: 201.5) (Hidden: 2 Score: 11.5)
Open Log: Non-commercial use only
For me, caching is 80% about location. Some of my favourite locations include the North and South Downs, the Thames Path, and, yes, Swinley Forest. So I was very pleased to come back here.

I did make heavy going of finding the 'ticket'. To be honest, I haven't seen the term used in this context before, and didn't really know what to expect. With the reference to 'a pound for charity' I built up a picture in my mind of what the ticket might be which, when I found it, proved to be totally incorrect :-)

As has been mentioned before, the ticket is not in good shape. Some words are completely illegible, but fortunately the gist of the message can be determined. It won't remain that way for VERY much longer.

So, I paid my pound and found the cache :-) It must be said that the cache itself was also well hidden, and took some unearthing :-)

Took nothing and left nothing, just signed the log.

Thanks for the cache - now off to Caesar's Camp.

Rgds, Andy

11 Nov 2007 by heffalump007 (Finds: 40 Score: 143) (Hidden: 5 Score: 10)
Open Log: Unrestricted
Thanks for a great cache pleased to find out there was a cache called the The Lookout that I could find & sign. Thanks to Roderick in introducing me to Navicaching. I will now do more of these are defintley cool & fun to do.

Signed the Log 11:00hrs 11/11/2007
Thanks for a great Cache
Heffalump007
[Modified 2007-11-11 16:50:36]

[Modified 2007-11-11 16:51:31]


20 Sept 2007 by TheRoundings (Finds: 2 Score: 6) (Hidden: 0 Score: 0)
Open Log: Unrestricted
Well this was certainly not what I expected. I had no idea I might be able to complete this during our lunchtime break today. The first clue was an easy find and the final was hideen in a very unexpected location.

Many thanks for keeping this going. having visted this area many times I had no idea that there was a cache there.

TFTC

Duncan

02 Sept 2007 by Robin Lovelock (Finds: 12 Score: 34) (Hidden: 48 Score: 142)
Open Log: Personal use only
Many Thanks for the lovely log entry Sandvika. Thanks also for the reminder that you or I should replace (or rather add) more clue tickets. On my last check I found out that someone had "handed in" a clue ticket, still attached to the object - you will know what I mean :-) I usually plant several clue tickets within a few yards of the spot, so it matters less if one or more go missing. You are welcome to contact us direct if you wish, since it sounds as if you are local. You will find no lack of "family" info on www.gpss.co.uk found with google and something like our names or "gps software".

01 Sept 2007 by sandvika (Finds: 51 Score: 142.5) (Hidden: 13 Score: 66.5)
Open Log: Unrestricted
As newbie cachers with fewer than 3 months of geocaching history, we're perhaps not the ones you would expect to be the first visitors in 32 months, aside from Robin. I have to confess that being the first to find after such a long time provides an exquisite pleasure far beyond the challenge that the cache presented. Better than a real FTF because it's been there the whole time!

We are very pleased to report that the clue ticket was found after about 5 minutes into our radar sweep around Ground Zero. It was well guarded, undisturbed by the multitude of mugglets that frequent the location on probably a daily basis.

The clue ticket is in rather less than pristine condition, however remains mostly readable. We have by no means completed all the caches in the vicinity and will be back so I would be happy to laser print, laminate and replace the clue if Robin would like me to do so. I took photos of the clue card to facilitate such reproduction.

The search for the final was a unique caching experience for me and was a highly enjoyable experience for ALL concerned.

The cache contents were very pleasing and "Clomod and Sharky" the young Sandvikans swarmed over it like bees over nectar. Sharky made me take a sharp intake of breath by choosing a plush bear and Clomod chose a little puzzle. We left a sheet of glitter smiley stickers as finders rewards (one is now attached to the lid of the well concealed cache container to greet the next finders), a pencil sharpener, a pad of mini post-it notes and a 4-colour biro.

Signed log at 16:35, took photo of "Clomod and Sharky" first on my camera and then on the cache camera (we do hope the film has not perished!). It's my fault they were not smiling on the photo with this log because I insisted on taking the photo before they opened it! I expect the cache camera photo is better, becasue it had been opened by then, of course! We then set off for Tony and Bonnie's SP8 and SP7, now maintained by a nice lady Laughalot.

Thanks very much for the cache. Sandvika

Find #67

navicaching%sandvika.co.uk (Roderick Parks)
Sharky and Clomod with the HUGE cache

13 Feb 2007 by Robin Lovelock (Finds: 12 Score: 34) (Hidden: 48 Score: 142)
Open Log: Unrestricted
Was pleasantly surprised that, despite what must be over two years since anyone else found this cache, it was in perfect condition - and someone even blew the dust off it for me. You will understand better if you read what I wrote in the paper log book, after finding the cache yourself :-)

16 Jan 2005 by Eds Brother (Finds: 2 Score: 6) (Hidden: 0 Score: 0)
Open Log: Unrestricted
Found the clue ticket.... coordinates were perfect; my GPS said 3 feet and there it was right in front of me!..... but, unfortunately, I'd cycled here from home and forgot to bring any money with me so didn't do the last bit.

Not to worry, I enjoyed finding the clue ticket anyway. Thanks very much... also, thanks to Robin and June for your prompt action in getting the Caesar's Camp cache sorted out after my recent log report.

30 Dec 2004 by Robin Lovelock (Finds: 12 Score: 34) (Hidden: 48 Score: 142)
Open Log: Unrestricted
Robin and June decided to check this one after replacing the rather waterlogged Caesars Camp cache by a nice new dry one. We were very pleased to find one of the original clue tickets and put down another one - just in case. We were overjoyed to find the cache itself in absolutely immaculate condition, just as we had planted it years earlier - with lots of nice entries in the old log book.

02 Nov 2003 by cfc2good (Finds: 1 Score: 3) (Hidden: 0 Score: 0)
Open Log: Personal use only
THE LOOKOUT

My first attempt at geocacheing using a palm iii with nav man (a compass would have been handy!)found the cache easier than I expected but never the less great fun..


06 Apr 2002 by lassitude (Finds: 17 Score: 46) (Hidden: 0 Score: 0)
Open Log: Personal use only
The clue made this one possible. After trying for it last week(And failing) we spoke to Robin who added a clue that made the Cache easier. Without that clue I would not rate this one as a 1 difficulty!!

Took Ear-rings and added a Triceatops bean ball we purchased from The Discovery Centre

Chris, Nicky and Susie

29 Mar 2002 by lassitude (Finds: 17 Score: 46) (Hidden: 0 Score: 0)
Open Log: Personal use only
Got to the waypoint and could not see where the cache could be hidden without being seen. Searched high and low but came up with nothing. Tried using OS grid rference and the GPS. still nothing. Well all I can say if they were all easy to find it would not be fun.

20 Oct 2001 by Robin Lovelock (Finds: 12 Score: 34) (Hidden: 48 Score: 142)
Open Log: Personal use only
HERE ARE SOME OLD LOGS THAT I FOUND

October 20, 2001 by Richard & Beth (98 found)
Arrived a while after Tim and June, Beth spotted it fairly easily. Didn't take or leave anything, just signed the book and rehid it. Tried to make sure it couldn't be seen at all.
We parked at the Crowthorne end of the forest (exit off the roundabout on the A3095 where it meets the B3348) which is not as far from the cache as the lookout car park, but has more chance of finding a space than at the Caesar's Camp gate. Looked in danger of raining most of the time but it held off. We walked back a the scenic route round through the forest.

Also recommended is a walk down into the Sandhurst training grounds which are usually open to the public. (Danger areas are clearly marked on the ground, and on the OS map) Watch out for soilders doing survival training and orienteering. The land is a lot more open, with areas having been cleared for training, also some spectacular view points.





October 20, 2001 by Tim & June (855 found)
Saw this as we approached it's resting place so covered it with local foliage etc.
Load of chestnuts here so take a bag to collect some.

Tim & June (Winchester)





October 7, 2001 by Byker28i (27 found)
1st of the day. Parked at the lookout and forgot to get a map. Mistake! Followed the paths led by the gps and hit the spot easily. Took 10 mins of searching but then Louisa found it. Took a map (thanks Robin!) and the Patchwork for Louisa. Left a Trick or Treat Sweets and a can of drink. Took a photo 23 left.
It started to rain heavily as we left. Got soaked!
Onto Virginia Water.




September 16, 2001 by McMichaeli (8 found)
Like Scotty said - a joint effort - three of us with three devices. Do more people make light work? ...or do too many cooks spoil the broth??
Anyway, apart from driving past the small parking spot about three times before managing to pull in it was a straighforward find...


Ian.




September 16, 2001 by Scottworld (30 found)
A day caches... the 1st of three, a joint effort with Team McMichael.
Found the area quite easily and we also got the cache after about 5 mins, searching.
A nice sopt.

On to the Windsor Park cache now.