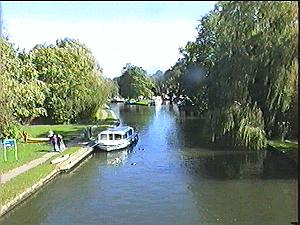 The "Hurley Lock" Geocache is hidden in a concrete corner, under ivy, on the island in the River Thames at Hurley Lock a few minutes pleasant walk from free car parking. Hurley Village is between Henley and Marlow, on the south bank of the Thames. Take the small road to Hurley Village from off the A423 Henley-Marlow road. Hurley Village is very small and only a handfull of houses, but this is a lovely spot from where to reach the river. You may wish to take a longer walk while you are here, but you will reach the Geocache within minutes. The lock obviously has deep water of danger to everyone, but the north side of the island, near the picnic spot, has lovely shallow, clear water - ideal for a paddle :-)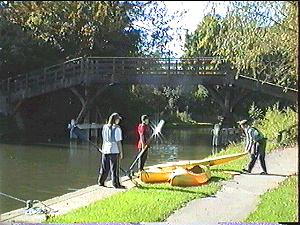 Free Parking is available at N 51° 32.940' W 000° 48.662' in the centre of Hurley Village. This is the reccomended start point. Then take the footpath north to the river, with the wall on your right. Keep on until you reach the old wooden and concrete footbridge, which you cross to get onto the island.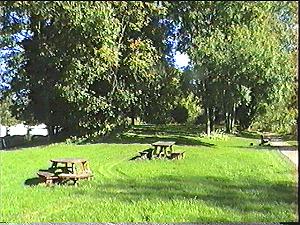 You then walk east, past the lock, to the picnic area. An alternative parking spot is in meadow beside the river at N 51° 33.084' W 000° 48.325' - but this might cost you £2 since it is private land. For this spot, take the road right as you enter the village, signed for Riverside Summer Parking. From the riverside parking you walk over another footbridge onto the island and direct into the picnic area where the geocache is hidden.
This is the usual Lovelock Geoacache, holding disposable camera for you to take a picture then return to the cache, toys and books for children. This time I made a list - and surprised myself: logbook, pens, pencils, camera, police whistle, calculator, 2 GPSS CD, golf ball, hair bands. plastic bear, torch, lighter, rubix cube, little car, foreign coins, cuddly pig, smurf, and a gremlin :-)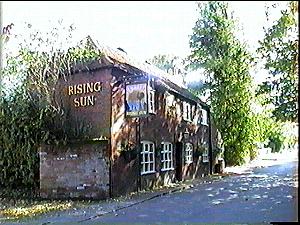 Junes's dad, Jack Ponsford - now 83 (in 2001) - helped me, Robin, plant this one, and we forced ourselves to take some liquid refreshments at "The Rising Sun" pub on the outskirts of the village, at N 51° 32.705' W 000° 48.551' Jack Ponsford never did like his picture being taken - but he's happy enough with a full pint of beer in his hand :-)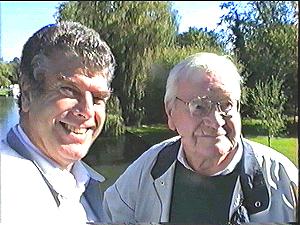 You will find more Lovelock caches on www.gpss.co.uk/geocache If you wish to contact Robin and want a reply, please email him direct on gpss@compuserve.com If you do this through a geocaching web site, please make sure you include your email address. Robin regrets that he may not reply to those who seek to hide who they are. Please include at least your name and email address.

Add a Log Entry
CACHE LOGS - May contain hints(spoilers)! decode

10 Dec 2009 by Amberel (Finds: 61 Score: 201.5) (Hidden: 2 Score: 11.5)
Open Log: Non-commercial use only
On the way to do the Groundspeak Turtle Trail caches this morning and I passed along the main road at the end of the village. As I was so close I popped in to see if I could find this cache.

Regrettably there was fisherman in residence who was watching my every move. This meant I could search for only a few moments, and would likely have prevented me from recovering the cache even if I had spotted it, so I had to leave this for another day.

I had a secondary reason for walking past the lock. My boat is moored at Chertsey. Our local lock-keeper, Gay, moved to Hurley some time ago, and as that is quite a trip from Chertsey I saw much less of her. Unfortunately she fell ill with a long term degenerative illness, and I wanted to see how she was getting on. She wasn't there, and the keeper I spoke to said the illness had forced her to retire. A real shame, she was one of the nicest people on the river :-(

Rgds, Andy

03 Dec 2007 by sandvika (Finds: 51 Score: 142.5) (Hidden: 13 Score: 66.5)
Open Log: Unrestricted
Thanks Robin for checking up on this cache. I suspect that you disturbing it led directly to it being far more visible.

Today I had just completed the brand new multi-cache at the Dew Drop Inn about a mile away and decided to have another look for this one, although I felt a tad guilty seeking one of Robin's caches without Heffalump007. Armed with umbrella in the absence of one of Heffalump007's walking poles, I was determined to find it or bust, knowing for certain that it was still there.

This time I did not have to look at all, the cache was of course precisely where I'd prodded and poked thoroughly on the previous visit, but this time it was visible from the path. I had a hunch that Robin might have left it more visible on purpose, but when I rehid it, I realised I could not hide it any better myself, so it's really down to seasonal variation.

SL@12:35 TNLN, TFTC, Sandvika (Find #240)

25 Nov 2007 by Robin Lovelock (Finds: 12 Score: 34) (Hidden: 48 Score: 142)
Open Log: Unrestricted
Yes it's still there :-) June and I took a little walk again, but this time with both etrex and Mio P350 - and the lat/lon seems good, to within 5 yards or so, and I'm happy with the clue "hidden in a concrete corner, under ivy". I must admit that there is a LOT of ivy, but the clue should help a lot :-)

13 Nov 2007 by Robin Lovelock (Finds: 12 Score: 34) (Hidden: 48 Score: 142)
Open Log: Unrestricted
Will be a pity if this one has gone since it was still there a few months ago. Contact me direct on gpss@compuserve.com or 01344 620775, saying where you looked, and we can confirm it was the right place. Thanks for trying. Looks like June and I will be taking another walk near there soon :-)

12 Nov 2007 by sandvika (Finds: 51 Score: 142.5) (Hidden: 13 Score: 66.5)
Open Log: Unrestricted
Lovely crisp November Sunday caching with Heffalump007. Prodded and poked ivy for about 45 minutes before giving up. Poked various overgrown itmes of litter, but not the tell-tale thud of stick on tupperware. The troll had probably moved the cache. The troll at the other end of the island had not moved the rather newer cache that was placed there and the multi-cache in the village also presented no problems, so 2/3 in the area.

TFTH Sandvika.

03 Mar 2007 by Robin Lovelock (Finds: 12 Score: 34) (Hidden: 48 Score: 142)
Open Log: Unrestricted
Robin and June amazed to find the cache where they had planted it all those years ago. At one point, despite the trees, the GPS said it was less than a metre away. Google earth seems to show an error of maybe 9 metres, but that could be an error in the google image. We could just about see it through the ivy, but that does not seem to have caused loss or accidental finds - other than one log book entry that does not appear in these logs. It was all very damp inside, so we copied the two log book entries, including Dodgy Dave's, into the front of a new log book. We also put the two pages from the old book in the back. We then moved all the contents, with new log book, into a new dry box with more transparent bags to give better protection. We then put it back before continueing our walk along the river from Hurley to Marlow and back again. When we got home, google said we had walked over 6 miles - confirmed by our aching legs - but we did have an ice cream break at Marlow. No Pain No Gain :-)

20 Jun 2004 by jonathanedew (Finds: 0 Score: 0) (Hidden: 0 Score: 0)
Open Log: Unrestricted
45 minutes scrambling about near the concrete & ivy without success. Wearing shorts got many nettle stings too.



21 May 2003 by dodgydaved (Finds: 8 Score: 21) (Hidden: 0 Score: 0)
Open Log: Personal use only
Hi Robin,

doing another nearbye cache and stopped off to be FTF here.

It's a bit damp in the box!


dave isobel angela