New ! Your clue ticket to this one is "on ground near fence", and from here you will get a nice view you may not have expected. On your way you may see the tree in the picture below, the original cache location, before it "went missing" in February 2002. The first five to find the cache have a special present awaiting them :-)



The Windsor Great Park Geocache is perhaps ten minutes walk into a heavily wooded part of Windsor Great Park - depending upon which car park you use. When I visited on a Friday afternoon, many of the car parks had their gates shut, but one seemed permanently open. This open free car park was at N 51° 26.761 W 0° 38.265. This Geocache is
not so far from others hidden by the Lovelocks, including "Windsor Castle" and "The Copper Horse" - you will see both these landmarks from the road.

The cache is the usual large tupperware box, with disposable camera and countless low value "goodies", books and toys. It was hidden at the base of what must be one of the oldest hollow oak trees in the forest - but now it is in a new location :-)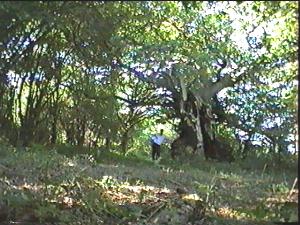 You will find more Lovelock caches on www.gpss.co.uk/geocache
Add a Log Entry
CACHE LOGS - May contain hints(spoilers)! decode

19 Oct 2010 by sandvika (Finds: 51 Score: 142.5) (Hidden: 13 Score: 66.5)
Open Log: Unrestricted
Over 2 years since our aborted expedition to this cache! Quite remarkable, it really does not seem so long ago.

Robin's caches are almost always excellent by any standards but particularly by contemporary standards where throwing 20 micros behind trees on a 3 mile walk has become the de-facto standard for pleasing the numbers hunters but offering nothing at all to younger cachers. Caching is about so much more than just number of finds, which is why we set ourselves different targets: no more than 75% should be traditional caches, at least 10% should be from the "alternative" listing sites. Robin should add his to opencaching.org.uk too to help the young UK listing site achieve critical mass. :)

I decided that one of Robin's caches would be our next milestone and with 1100 fast approaching and being on our longest sustained caching spree (every day for over a month) this needed a bit of planning. So yesterday lunchtime I came looking for the clue tickets and I was not as lucky as Amberel but found one soon enough. Then a quick cache and dash nearby for the daily cache. Today 3 easy caches in my lunch break took us to 1099 and then off to find this one on the afternoon school run, accompanied of course by Penguin.

The cache was a very easy find as it was not properly hidden, but all became clear - it was most recently found by muggles. But as is so often the case with Robin's caches, when they are found by muggles, they simply write in the log book and put the cache back. Even muggles respect good caches!

The cache was nice and dry, only a slight dampness in the logbook made my biro misbehave at first. The cache had been in a black plastic bag but it had been chewed to ribbons by animals so we took it away and disposed of it. We took a couple of photos including one with the cache camera and off we went again. After taking over 500 days to find the previous 200 caches, we've just set a new fastest 100 record of 37 days! Many thanks, Sandvika #1100
Penguin at ancient oak on way to cache
Penguin inside another ancient oak on the way
Penguin with Sandvika's 1100th find!

18 Sept 2010 by sandvika (Finds: 51 Score: 142.5) (Hidden: 13 Score: 66.5)
Open Log: Unrestricted
Found by Adam, Chelsey and Jake
Photo 1

12 Dec 2009 by Robin Lovelock (Finds: 12 Score: 34) (Hidden: 48 Score: 142)
Open Log: Unrestricted
Well Done Andy and Thanks. I did put several clue tickets in the area to allow for inaccuracy under trees. I can't remember the format of the lat/lon I wrote on the clue ticket but that big inaccuracy might be explained if I had written it in decimal degrees. e.g. 51 30.5 N 0 30.5 W is not the same as 51.305 -0.305 Most geocachers are used to degs and mins. Or it may have been due to the trees. Or - the most likely - that fence beside the bridle path was put in after we planted the cache in it's original (second) spot. Then we may have found a new spot nearby but not updated clue tickets. But so many years ago, I'd have to re-survey :-)

12 Dec 2009 by Amberel (Finds: 61 Score: 201.5) (Hidden: 2 Score: 11.5)
Open Log: Non-commercial use only
Before I visited this cache today I read the cache page. But I didn't read the previous few logs. Had I done so, I would have made things considerably easier for myself :-)

When I arrived at GZ I feared I would be unsuccesful, as there were no fences near where my GPSr took me. I looked around and headed for the nearest one. Then there was, I thought, no obvious place to hide a ticket (bearing in mind I hadn't read the previous logs).

But I looked around anyway, and BINGO - the very first place I tried came up trumps. I checked the GPSr and it was reading 71 feet. I still reckon I was pretty lucky :-)

So off the the final location. And once again, no obvious hiding place. But I felt I had a much better chance of finding a large plastic box than of finding a clue ticket, so I kept widening my search until I did. This time my GPSr was reading 80 feet!

But if the accuracy of the co-ordinates is possibly redolent of an earlier geocaching age, then so is the size of the cache container - gargantuan by modern standards :-)

I had forgotten my pen, and a pencil struggled to make much impression on the slightly damp page of the log book; nevertheless, I made my mark :-)

Thanks for the exellent cache, which made most of the Groundspeak ones I would go on to do later in the day seem slightly ordinary.

Rgds, Andy

07 Jul 2009 by Robin Lovelock (Finds: 12 Score: 34) (Hidden: 48 Score: 142)
Open Log: Unrestricted
I think OA below put their log on the wrong page: I think they meant to put it on the Copper Horse, which is a different cache. They should find the right page by following the link to the Navicache page for the Copper Horse from www.gpss.co.uk/geocache They will find Ecki's log there. They can try this cache on another day :-)

04 May 2009 by jednc (Finds: 1 Score: 3) (Hidden: 0 Score: 0)
Open Log: Non-commercial use only
this was our first cache attempt. took two tries but we found it! it was challenging and fun. the cache was in good shape... a bit damp on the inside but we carefully resealed it. Thanks!

24 Feb 2009 by gcoupland (Finds: 11 Score: 38) (Hidden: 0 Score: 0)
Open Log: Unrestricted
After seeing that Robin had checked the cache recently and placed a few more clue tickets, I decided to give this a bash.
Not much of a view today, but the castle looked imposing in the gloom.
Agree that the GPS readings are a bit off but managed to find one of the new clue tickets. (Had alook for the other oine as well but must be well hidden).
A quick trot to the cache and a quick find.
Everything ship shape, and another excellent cache from Robin.
Left Glo Stick and will move Captain Scarlett onwards
TFTC
Gary C
[Modified 2009-02-24 11:44:07]


01 Feb 2009 by Robin Lovelock (Finds: 12 Score: 34) (Hidden: 48 Score: 142)
Open Log: Unrestricted
Here's the picture June took of the geocache itself :-)
the geocache on 1st February 2009 - still dry !

01 Feb 2009 by Robin Lovelock (Finds: 12 Score: 34) (Hidden: 48 Score: 142)
Open Log: Unrestricted
What a nice surprise to find this big cache as we left it, nice and dry, with lots of goodies inside, including the camera and big log book. Was bitterly cold, so only wrote a line in the book. No problem in people reading this log, and I may add a word or two to the page. The cache itself is some yards from a new fence (built since the cache was planted) and is on the OTHER side of the fence from the new bridle path. Well, it looks new 'cos it has a layer of sand. The cache is in a wooded area reserved for cattle to graze, and can be entered where there is still the wooden fence posts - or through a gate nearer to the clue ticket(s). You will see a sign confirming OK to go into this area if dogs are kept under control. What makes this cache difficult is finding one of the clue tickets. I added another two today, one under a mossy stone near to the fence - which is now broken down, and one near to the path, just visible but tucked under mossy bark on a falling tree. My GPS position was saying nearer the path, instead of the broken fence, where you get a nice view across fields to Windsor Castle. If many people still can't find clue tickets, I will either add more or simply take you straight to the cache with the GPS lat/lon. June took a piccy of me with the cache box open, which may get added sometime.

01 Feb 2009 by Robin Lovelock (Finds: 12 Score: 34) (Hidden: 48 Score: 142)
Open Log: Unrestricted
Clue tickets are typically a slip of paper, perhaps 2 cm wide by 10 cm long, protected from damp by transparent plastic from a laminator. Usually, I plant several within 5 or 10 metres of the spot, to allow for one or two going missing. I seem to remember poking some well down beside those fence posts, between the wood and the grass. Other spots might be under a tree root, but not buried. You only need to find one of course. If you already looked well here, you can contact me direct by email on robin@gpshobby.info for what was on the ticket. However, I'd prefer people to have a good look first and report their problem - so June and I can visit the spot again and plant more clue tickets.

31 Jan 2009 by witchey (Finds: 2 Score: 5) (Hidden: 0 Score: 0)
Open Log: Unrestricted
when looking for this today could not find clue ticket for love nor money found what was left of a wire fence any clue to what the clue ticket look like or what to look for

06 Jun 2008 by sandvika (Finds: 51 Score: 142.5) (Hidden: 13 Score: 66.5)
Open Log: Personal use only
Got completely muddled here, was convinced it was a traditional cache, not one with clue tickets. As a result, we braved the brambles to look under large mounds of decaying wood before realising we did not even have the owner's phone number to hand to be able to ask....Doh! Will be back! TFTH, Sandvika

22 Jul 2002 by Robin Lovelock (Finds: 12 Score: 34) (Hidden: 48 Score: 142)
Open Log: Unrestricted
at 1245: Derek Scaffell and Ian Hayhurst left pen + lamborghini + captain scarlett. Took 1 special prize. Above seen in paper log book by Robin and June when they checked cache on Saturday 10th March 2007.